Installation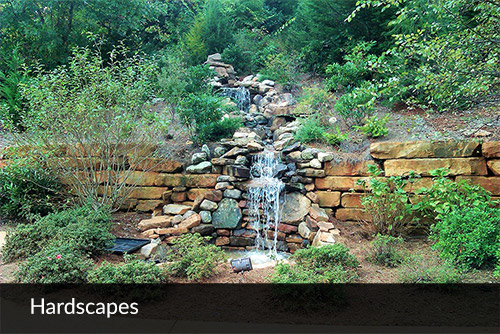 Numerous structures can be built from a variety of materials such as stone, brick, pavers, and lumber. Steep slopes are easily manageable with retaining walls and steps. Pathways can lead you on a journey through your garden. Patios will draw family and friends for your outdoor entertainment, or a pergola will provide a little shade for that afternoon nap. Rustic Countrysides can develop outdoor living areas that will make your worries fade into the background.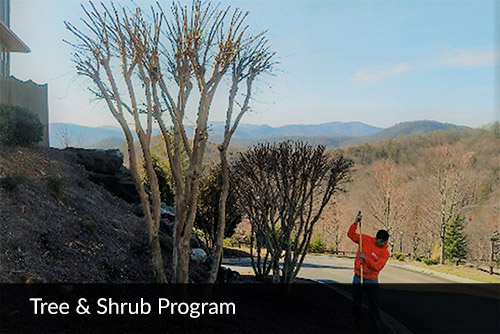 Landscape plants are often overlooked until problems develop that can sometimes be too far along to treat. Our in depth program was cultivated on the simple principle of prevention is always better than cure. Safe horticultural oil is applied in the dormant season to smother insects and their eggs. We use 3-4 month slow release fertilizer that includes several minor nutrients that can help the plant develop a stronger immune system. Only where necessary, we apply a curative fungicide/insecticide treatment with a touch of fertilizer to help the plant regrow. Pre-emergent herbicides are applied to prevent weeds, keep mulch clean, and reduce the need for further herbicide applications.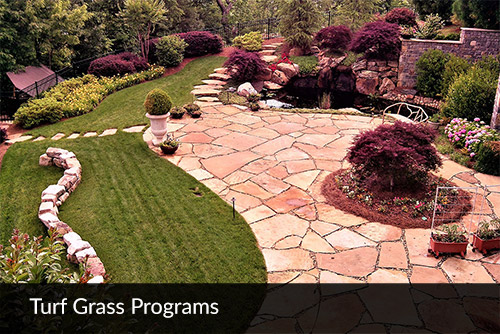 After years of managing high class Golf and Sports facilities, we have developed a comprehensive program that will produce the highest quality turf for the most effective price. We focus on providing nutrients through a combination of granular and foliar applications that will develop a strong root system as well as stunning leaf color. Pre-emergent herbicides are applied to prevent weeds thereby reducing the need for further herbicide applications. Also included is treatment for many common diseases that plague turf grass during stressful periods. Grub control and insecticides not only protect turf but also nearby plants that can be attacked by some common pests such as Japanese Beetles. Additionally, we include aerification (and interseeding for Cool Season Turf) that will improve drought tolerance and overall turf health.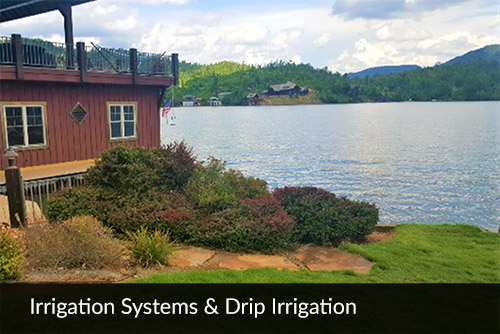 Much concern has been brought up about water conservation. Our systems are designed to make every drop count. More plants die every year from overwatering than from under watering. Plants require water to survive, but there are times when rainfall is inadequate. People are forced to protect their plants by dragging hoses, wasting time, and trying desperately to remember to turn the water off. An automatic irrigation system from Rustic Countrysides is the answer; delivering the right amount of water directly to each plant promotes strong root systems and an overall healthy plant. Drip systems are used in all landscape beds to avoid wasteful watering of mulched areas. Also, we are able to use drip irrigation to water window planters, pots on porches, and even plants on docks. Our systems include many great components to save time and protect your investment:
Rain/Freeze Sensors, Automatic Controller
Auto drains, Backflow preventer, Quality products
2 year Guarantee on all Installations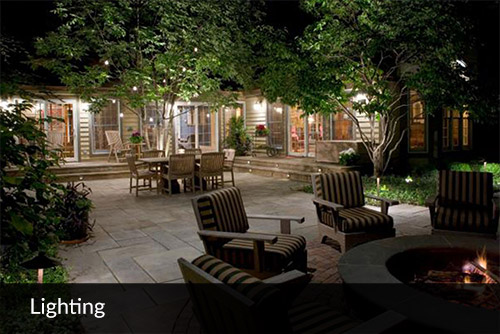 Using low voltage landscape lighting we can showcase your home and landscape at night; extending your enjoyment of outdoor living areas. Lighting can be also be used for safety when walking around in the dark or help provide a sense of security. Utilizing different lighting techniques we will spotlight, up light, and moonlight focal points in your garden. Systems are designed with room for future expansions and using only professional light fixtures and transformers that will provide many hassle-free years. Rustic Countrysides can even make repairs on other systems not performing properly.